You are here
Sullivan Nicolaides Pathology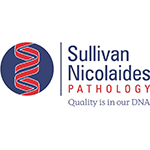 Mon

Tue

Wed

Thu

Fri

Sat

Sun
About us
Sullivan Nicolaides Pathology is one of Australia's largest and most respected diagnostic testing laboratories. We are a member of the Sonic Healthcare group, a global company for excellence.
We deliver a comprehensive service to Doctors, private hospitals and nursing homes in Queensland, Northern NSW and the Northern Territory.
We sell:
We offer routine pathology testing accepting all referrals.
We offer complex tests such as urine drug screen testing and cardiology services.